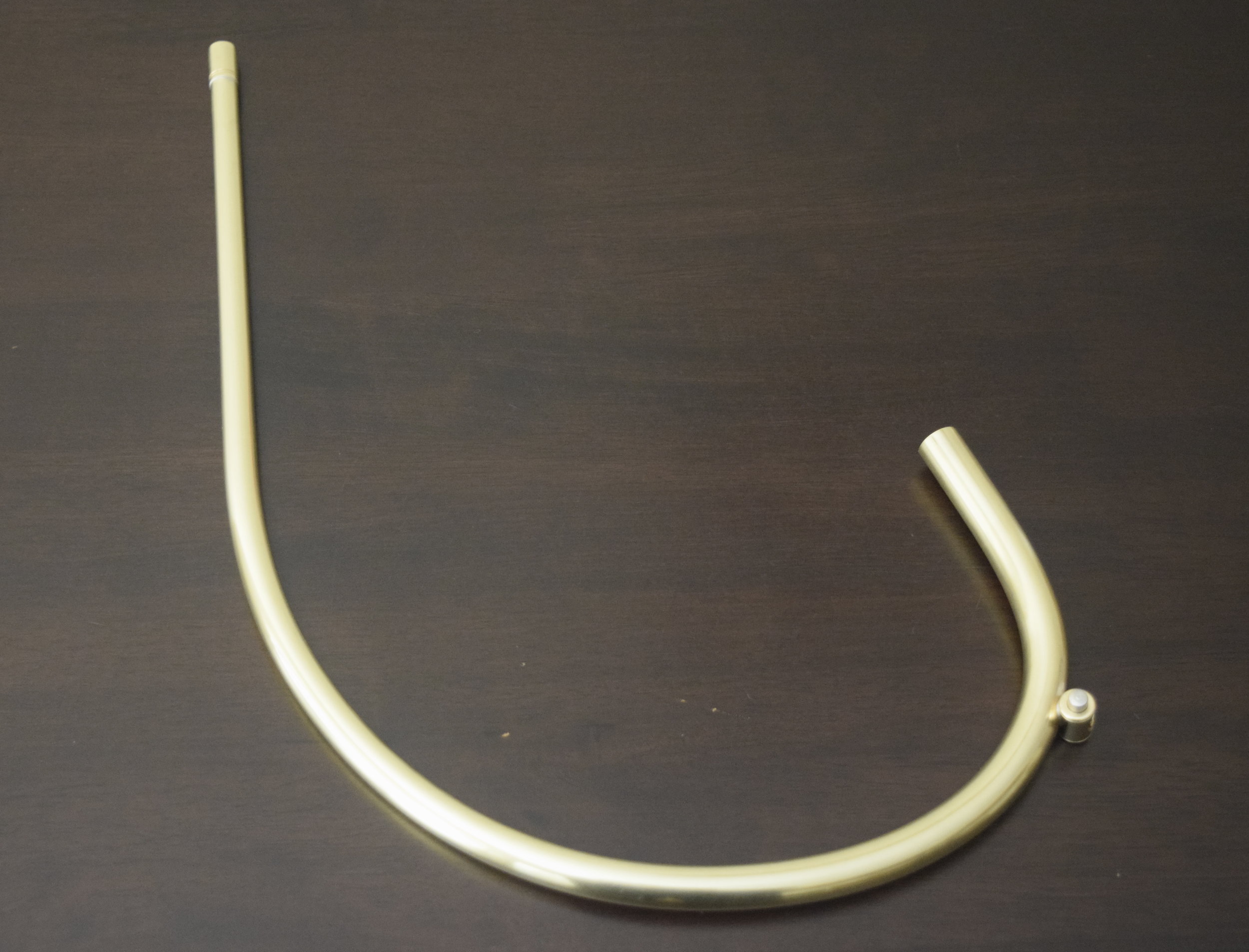 Extensive research and trials have resulted in a truly great Leadpipe, a component I find to be most important on a horn. Originally designed for the Cantesanu Double horn, this leadpipe is an improvement not only for Geyer style horns but also for other designs, notably so for the Conn 8D and Alexander 103.
What makes this leadpipe extraordinary is the way the brass material is processed, along with the carefully designed taper.
Benefits to your horn: a clean and focused sound core, excellent attack response, evenly spaced pitch slots with a full range of harmonics that provide a ringing and projecting sound. The leadpipe is well balanced, free blowing and even throughout all registers.
Switching the leadpipe on a horn is the most cost effective investment towards a better instrument. Bent to fit properly on each particular make of horn, the Cantesanu leadpipe has been installed on instruments like Rauch, Berg, Lewis, Alexander, Kuhn, Schmid, Yamaha, Conn, Holton, Hoyer, Lawson, Otto and others. Templates for various models are available, however a template may be required to ensure a proper fit. The leadpipe is made of Yellow Brass and comes with an Amado water-key. Installation is free of charge if done in the shop. A leadpipe can be made with either an American or a European shank receiver.
I use the Meinl Regular and Hand Hammered bells in the shop, and offer them as an easy customization for virtually any style of horns. I find these bells to be simply the best available, offering exceptional sound qualities such as rich harmonics, clarity and projection. The original Alexander rings I use can be easily modified to properly fit the bell and to meet the diameter of other horns using the same type of ring; other bell rings such as Schmid and Yamaha are an option that is offered as well. The Regular (spun) bell flare is $700 and the Hand Hammered bell flare is $1000. I also offer complete bell/tail replacements. Please contact me for ordering a bell or purchase one on this page.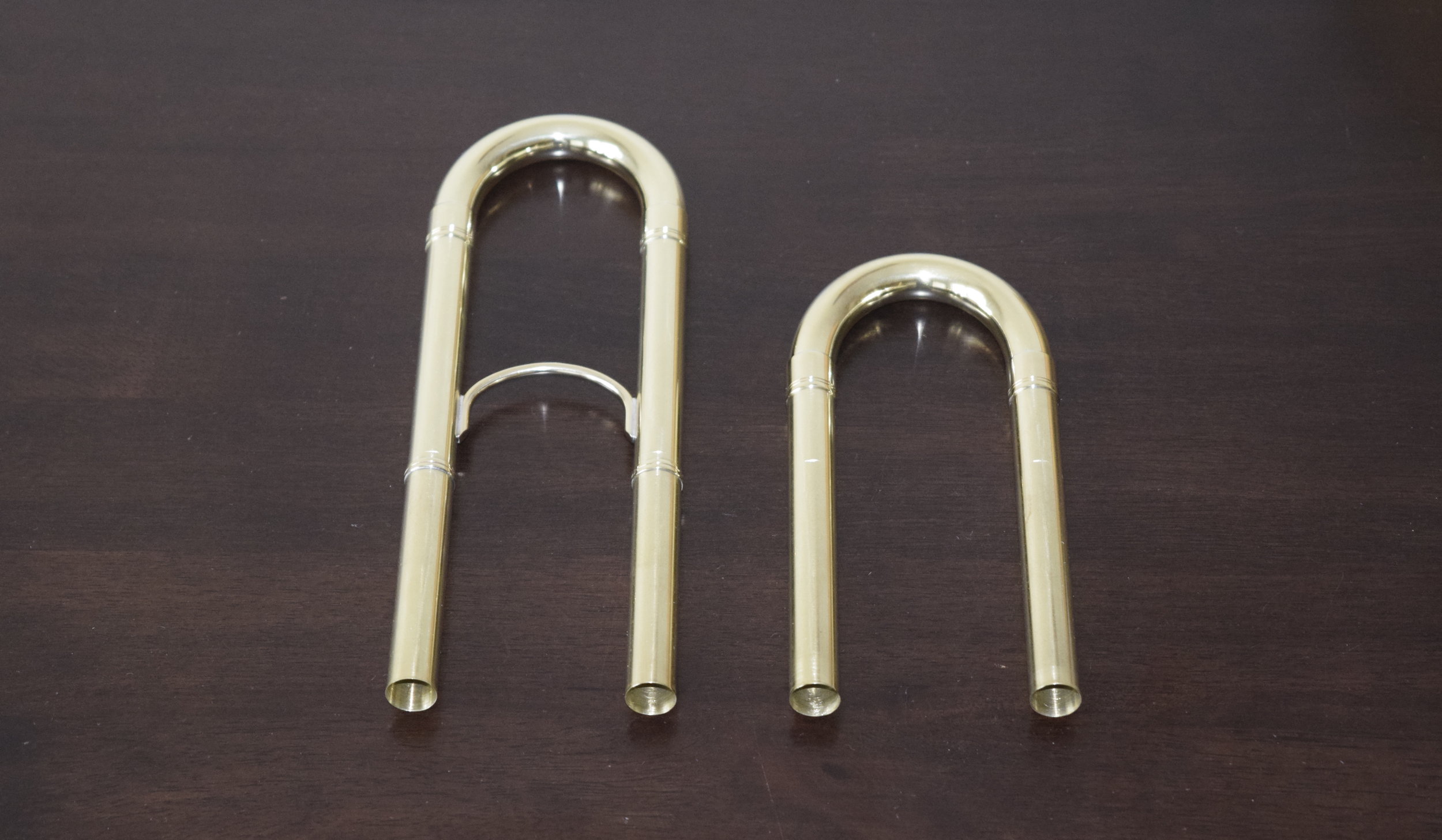 The Schimd Custom Slides have been offered on and off for a few years and are now again available. Made from the same materials and using the same brass processing techniques as the custom horns I offer, these slides are being used by professionals from orchestras such as the Metropolitan Opera, Boston Symphony, Houston Symphony, Seattle Symphony, Cincinnati Symphony and many others on their Schmid double and triple horns.
What to expect from these custom slides: a deepening and darkening of the sound, making it warmer as well as taking away the edges of the box the horn seems to restrict a player to; the slots are wider and more even. I personally didn't believe a set of slides would make such a tremendous difference, until I tried them myself on a horn. The improvement is immediately obvious.
The slides come as a set, for now limited to the Schmid double horn and the High F triple horn model. A set can be purchased below.
The Cantesanu Horns Yamaha 667 Customization Package has become widely known and has been offered now for many years. I have modified the Yamaha more and more until I arrived to a set of changes that make this already good horn a truly magnificent instrument. This is the original complete customization package that has started a trend in the horn world and helped making the 667 such a coveted instrument (I dare call it an "original package" because at the time when I started offering a complete customization package, I haven't heard of any other available, it wasn't yet a "thing"). It is a "house specialty" for my shop and is offered at $1,500. The conversion includes:
A new custom leadpipe
Structure/bracing reconfigured
Lacquer stripping
Hand lapped valves
Chemical cleaning
Horn Services:
Detachable bell conversions using original Alexander rings - $550
Chemical horn cleaning - $130 for double and $150 for triple horns
Repair work and customizations - $60/hour